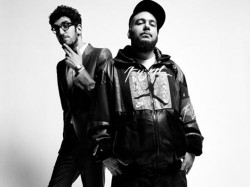 Electrofunk double act and recent Elly Jackson recent employers Chromeo have thrown the music industry into a complete panic, having released the "world's smallest album".
'Drive Time', the band's fourth album, has a running time of just 183 seconds, comprises 55 tracks and is said to explore political themes.
"When we first came out they made this big deal about us being a Judeo-Arab duo, and we're not seen as a political threat," says lead vocalist and guitarist Dave 1.
The album aims to promote the idea that the extensive length of an album makes no dif­fer­ence as long as the message is clear: "All Killer. No Filler".
Well done lads.