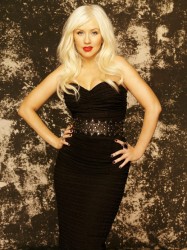 Christina Aguilera has been talking about all the popstars, namely Britney Spears and Mariah Carey, judging singing contests these days.
Predictably, there's some spiel about the next gen­er­a­tion and 'nurturing talent' and etc etc: "You know I love that," Christina began. "All these artists are coming together from all the exper­i­ence that we've had and we're being able to take that and feed this new wave of talent coming up."
"Britney's so talented. I mean she's a pro. She's been at it for a number of years now. We did grow up together. It's actually cool that these strong women are joining the club and they're gonna have fun."
Meanwhile, on the subject of Mariah Carey on American Idol, Christina had no thoughts other than that "the news is fresh".
Amazing.