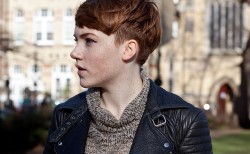 'Up-and-coming' song­stress Chloë Howl has confirmed that she's working with producers Justin Parker and Eg White, who have pre­vi­ously worked with rather suc­cess­ful 'per­form­ing artists' Lana Del Rey and Adele.
Speaking to the one and only Daily Star Playlist, Chloë said: "I hadn't properly written with anyone before. I've finished the album and I don't have to worry about anything, I suppose, as we've got all the songs done."
Well that's good news isn't it.
"This year is about making a presence and next year will be when it all kicks off."
Chloë's single 'No Strings' is out on August 5. Popjustice had a nice chat with Chloë Howl recently and here it is.