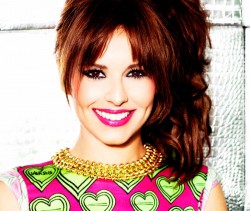 Cheryl 'Cheryl' Cole spoke through the pain of her recent car crash long enough to confirm (again) that "there will def­in­itely be a big cel­eb­ra­tion" involving Girls Aloud at some point.
Having a bit of a chat on Radio 1 (as quoted here) about the band, the 'The Flood' hitmaker said: "It feels like yesterday (that they started). We feel really lucky we're still here and there will def­in­itely be a big celebration."
"We still socialise and go to each other's houses weekly, but the public don't see all five of us all together," she continued.
Yes, but who do you see the most Cheryl?
"Who do I see the most? Kimberley and Nicola," she confirmed. "Sarah's moved back to London now after living in the country and Nadine lives in LA but she's back and forth, so we see more of her now."
PLEASE FOR THE LOVE OF GOD GET ON WITH IT.