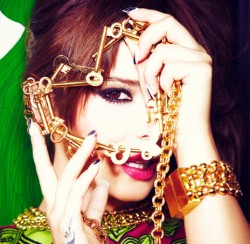 "CHERYL IS BACK" reads Cheryl 'Cheryl' Cole's website along with the news that her third album will be called 'A Million Lights'.
The follow up to 'Messy Little Raindrops' goes on sale on June 18 — eight days after 'Call My Name' is released on June 10.
If all that inform­a­tion wasn't enough, she's also announced the single will get its first play "across all UK radio" at 8:10am this Friday.
A press release we got also confirmed col­lab­or­a­tions with "Alex Da Kid, will.i.am, Lana Del Rey (!), Jim Beanz and newcomers Pantha and HyGrade".
Here's a nice picture of Cheryl trying to find the right bloody front door key on her keyring — she's just like us!