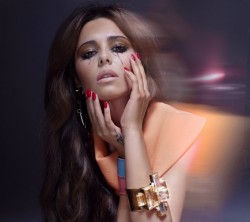 Cheryl 'Cheryl' Cole has spoken to Capital FM about her 'col­lab­or­a­tion' with Authentic Chanteuse Lana Del Rey and how she knew about her before you did.
Cheryl first noticed Lana "about a year ago". As she recalls: "I was hearing these songs that were really fresh to my ear and amazing and I asked the guy who she was and he said, 'Watch out for her, it's a girl called Lana Del Rey'."
(She'd have found out about her in May 2010 if she'd kept a closer eye on Popjustice, but not to worry.)
Cheryl also suggested that "super talented" Lana's appear­ance on her upcoming album, 'A Million Lights', "happened really organ­ic­ally", which is good to know.