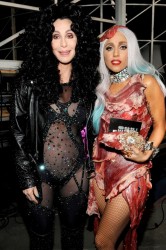 Tweeter extraordin­aire and Shaun Kitchener fan Cher has disclosed that she was in the studio last night recording a Timbaland song.
Speaking from her Twitter account (where else does any serious news come from these days let's be honest) she said: "Doing Timbaland's song 2nite,its GREAT,but High! Pink's 2 Songs 2wks."
Which roughly trans­lates as: "Timbaland's song is great but involves high notes. I will be recording Pink's two songs in two weeks' time."
The album is also set to feature her near mythical duet with Lady Gaga, 'The Greatest Thing', to which Cher allegedly enjoys listening on a daily basis (except Sundays) while jumping on a tram­po­line.
She also stated that she was of the impres­sion the first single would 'drop' in October with the 'CD' (album) to follow 'near Xmas'.
In the same series of tweets she also let her long suffering Twitter followers in on the fact that she does her own make up ("Lip glozs eyelash curler tiny blush on cheek& liids & eyebrows POwder") and that 'If I Could Turn Back Time' took her just 90 minutes to record.
If this volume of inform­a­tion continues she will have leaked the whole album herself by the time the summer is out.