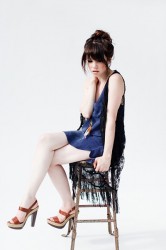 'Worldly Matters' song­stress Carly Rae Jepsen has 'revealed' that her new album is entitled 'Kiss' and will be released on September 18.
"These are lyric and song ideas that I have been col­lect­ing over the years," Jepsen mused in a statement. "The record is pop. It's inspired by Robyn, the Cars, Madonna, and believe it or not, James Taylor."
Certainly not setting the bar high, Jeppo.
"I can't tell you how lucky I feel to be able to col­lab­or­ate with some of my dream producers," she said of working with notori­ously unre­li­able hitmakers like Max Martin and Toby Gad. "It has been the most ful­filling experience."
Jepsen will continue to lay low in the meantime, per­form­ing on America's Got Talent, The Tonight Show, Conan, and Today before going on tour with Justin Bieber at the end of September.