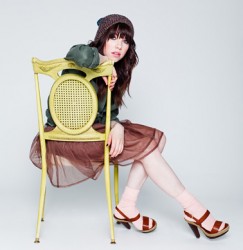 Carly 'Rae' Rae Jepsen's confident that at some point she'll be able to move on from 'Call Me Maybe'.
Chatting to Billboard about the success of the song and the fact that it's up for some Grammys, she said:
"I think with [a] song being as big as 'Call Me Maybe', there's always that challenge of how do we push past that and show people that there is more to offer. I'm confident whether it's with this album or the next, I'll be able to prove that."
Billboard kindly raise the 'stat' that while 'Call Me Maybe' has sold 6.7m downloads in America alone, the album 'Kiss' has sold just 226,000.
Mind you, Jeppo's just happy to be going to the Grammys and can worry about all that other stuff at some other point.
"To be really honest with you, leading up to every Grammy weekend except for this one, I was getting comfy in my PJs with my popcorn bowl and deciding whose dress I liked the best," she explained. "So it'll be different for me to actually put on a dress of my own."
Jeppo's not even per­form­ing at the Grammys (WFT), but will be present­ing an award.