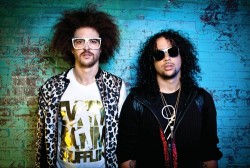 Don't put the bunting up just yet: LMFAO are staying together.
According to Rolling Stone, SkyBlu addressed rumours of the philo­soph­ical duo's in a recent 'con­fer­ence call', stating: "It's com­pletely false. We're family at the end of the day. Blood is stronger than anything."
He continued: "We have to be smart enough to recognize it's all a game, keep executing our vision and turn this world into a party planet."
In terms of their 'party planet' plans, there might be a (BRACE YOURSELVES) LMFAO movie in the works. "That's something we've def­in­itely been thinking and putting out into the universe," SkyBlu added. "An LMFAO movie is very exciting."
Sounds shit.