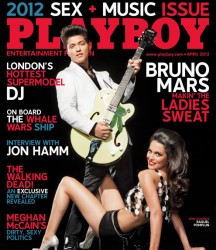 Bruno Mars will 'grace' the cover of April's 'Sex + Music' issue of Playboy magazine.
Mars is the first popstar to appear on the cover since Danity Kane 'rebel' Aubrey O'Day in 2009, and is only the tenth man ever to land the spot.
Speaking to the pub­lic­a­tion about his 'retro' styling he said: "Growing up in the showbiz world, I looked up to those guys: Frank Sinatra and of course Elvis Presley." He pointed out: "If you look at those groups, or at James Brown, Jackie Wilson and the Temptations in the 1960s, you'll see you had to be sharp onstage."
The April issue of Playboy is out in, well, April.