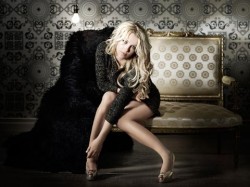 Britney Spears is to release a 3D concert movie.
'Britney' has announced via 'her' Twitter that the DVD/Blu-Ray release of her ongoing Femme Fatale tour will also be presented in 3D. "Everything looks better in 3D!!!" she tweeted. "We filmed the show last night in Toronto. So excited for you guys to see it."
3D-TV owning Britney fans will be able to enjoy such three-dimen­sional delights as Britney's hand pointing out at them a bit and her hair whipping out the TV screen like a popstar version of that girl from The Ring.
Britney's Femme Fatale tour reaches the UK in October.