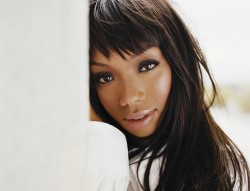 Brandy has gone and blagged herself another record deal, the LA Times music blog Pop & Hiss confirmed today.
Brandy's had a bit of a tough time of late what with being unsigned since 2009, rein­vent­ing herself rather mis­guidedly as the rapper Bran'Nu, and some other unfor­tu­nate incidents we won't go into, but her luck seems to have turned around with the announce­ment of a deal with RCA.
"Brandy has con­sist­ently won the vote as everyone's favorite female vocalist," RCA chief executive Peter Edge said in a statement. "I am sure that in her next chapter at RCA and in part­ner­ship with Breyon Prescott, we will record her most exciting music to date."
Brandy hopes to release her new album in 2012.
We bet she does.