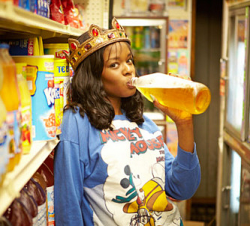 Azealia Banks has been 'letting off some steam' about a recent Vibe.com article which referred to her as a "bisexual high school dropout."
"Still very inter­ested as to why @vibemagazine chose to point out that I'm a high school dropout in their post about me earlier," she remarked on Twitter.
She followed this by ques­tion­ing: "also very inter­ested in what my sexuality had to do with the topic of the post."
Criticising "urban media" as an "ignorant dis­trac­tion", she said that her dealings with hip hop press can sometimes "be fun and familiar, but everyone is still super close-minded".