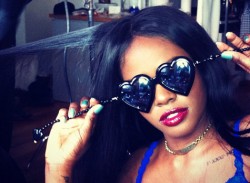 The Hollywood Reporter are claiming that Azealia Banks has signed a deal with Lady Gaga's manager Troy Carter.
Banks tweeted on Monday night: "I just switched man­age­ment.. Literally like three days ago, and have a whole new set of resources to take advantage of."
Carter has pre­vi­ously looked after fellow rappers Nelly and Eve and currently rep­res­ents Mindless Behaviour, 14-year-old 'Paparazzi' hitmaker Greyson Chance and Gaga.
Can we have her instead of The Darkness now, please?