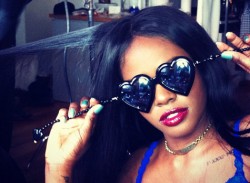 Azealia Banks has confirmed she worked on a song which may or may not appear on Lady Gaga's 'ARTPOP'.
"Yeah, I worked on a song for her," the 'P.U.S.S.Y' chanteuse told Capital FM. "I don't know if it will make her record. I hope it will make her record, but we'll wait and see."
So there you have it.
She'd also quite like to work with Rihanna too, if anyone can help with that at all. Obviously Rihanna is pretty wary when it comes to col­lab­or­a­tions though so don't hold your breath.