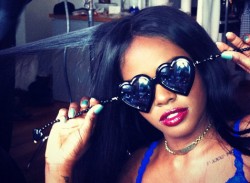 Azealia Banks premiered a new song at the Mugler fashion show in Paris last night.
The song is called 'Bambi' and had pre­sum­ably undergone the 'remix treatment' for its runway premiere, in true 'Government Hooker' style.
There is quite a good bit at 0:49 where Azealia asks "so, do you speak any French?", which may or may not be rude. All in all though, file under 'needs work'.
Azealia has been working with Mugler's Creative Director Nicola Formichetti on things recently such as the 'Liquorice' video and a V Magazine shoot in col­lab­or­a­tion with pho­to­graph­ers Inez and Vinoodh. This has led people on the internet to wonder whether she is 'the new Lady Gaga'.