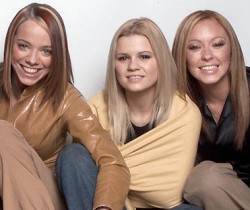 Atomic Kitten are in talks to reform as part of Living TV's pop comeback series.
Following in the steps of Steps, The Sun report that the band's man­age­ment (!) are in talks with pro­duc­tion companies to replicate the format.
A TV source is reported as saying: "We have had lots of approaches from artists and broad­casters about recre­at­ing the Steps doc­u­ment­ary."
While the show is currently "only in dis­cus­sion stages" it is not yet known which lineup it would focus on: the McLaren/Frost/Hamilton tri­um­vir­ate or the band from the Katona/Range glory days.