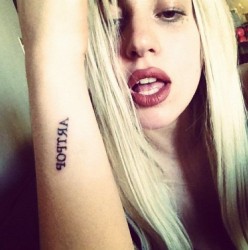 According to The Sun, Lady Gaga will perform her first 'gig' in seven months at the iTunes Festival thing in London.
The article doesn't mention a specific date but all the shows take place in September at the Roundhouse in Camden, so it will pre­sum­ably be on a date where some awful indie band hasn't been booked already.
Of course The Sun managed to speak to an 'insider' and here's what he or she had to say about it all:
"The gig in Camden has a huge budget and is likely to be the first anyone sees or hears of her album. The Haus Of Gaga team have been working in secret on costumes and stage sets for the show from their base in Paris."
Exciting.
"Gaga's dancers have also been rehears­ing but she's only told her closest friends about the new direction she's taking," he or she continued. "The music is going to be a big departure and Gaga's dreamed up a whole new image for the album."
NO JAZZ THANKS LADY.