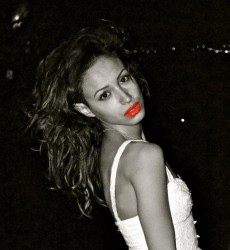 Amelle Berrabah has revealed that she is currently working on a solo record.
She confirmed the news yesterday via Twitter, declaring: "Right got everything I need and about 2 leave 4 studio! Can't wait 2 get these ideas out of my head and hear what they sound like!"
Later she sent a message to producer Pete Kirtley saying "See u soon! Can't wait 2 finish THE track!". Kirtley replied pre­dict­ing the song would be a "big hit in 2012" (producers say this sort of shit all the time to be fair) and later tweeted: "This tune just gets BIGGER and BIGGER!!!!!!! This is gonna blow the f****** roof off! X"
Let's hope he is fully insured.
Kirtley pre­vi­ously produced 'Now You're Gone', Amelle's first track as a Sugababe, which appeared on the repacked edition of 'Taller In More Ways' following Mutya Buena's departure from the group in 2006. He also worked on a song for Mutya's solo album 'Real Girl'.
Amelle sparked spec­u­la­tion that she was about to embark on an indi­vidual project when she created an 'Official Amelle Berrabah' Facebook page last week.