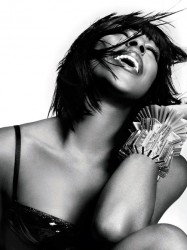 Alexandra 'Alexandra' Burke has a new album on the way.
The 'Bury Me (6 Feet Under)' song­stress had a chat about just how bloody fast her career's gone, telling Bang Showbiz: ''I don't know how I got there, it seems like just yesterday that I won The X Factor, I want to show growth in me as a young woman [SEE A DOCTOR ABOUT THAT — MEDICAL ED] and I am at the point where I'm digging deep, deeper than I've ever dug before."
But how deep are you going Alex?
''Back to the people who made music, Aretha Franklin, Billie Holiday, that gospel, spiritual sound really gets me. And that's where music comes from. Our gen­er­a­tion and people who are younger than me, they don't really know where music started from, because some of them haven't been taught that.''
This is either exactly what Alexandra should do next or exactly what Alexandra should not do next. There is no middle ground here.