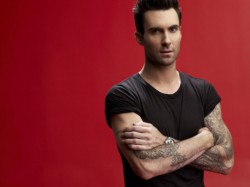 Adam Levine will be 'honoured' at the 61st Annual BMI Pop Awards on May 14, it's been announced.
Levino will be awarded the President's Award, which Ace Showbiz describe as being "in recog­ni­tion of his out­stand­ing achieve­ments in song­writ­ing and the global impact he has had on pop culture".
But what does your friend and ours Barbara Cane, BMI's Vice President & General Manager, have to say about it all?
"Adam has mastered the art of writing unfor­get­table pop and rock hits. Captivating music lovers with his undeni­able and memorable lyrics and catchy melodies, Adam's pop anthems and heartfelt ballads are defining an exciting brand of global stardom."
Sure.
Previous recip­i­ents of the award include Taylor Swift, Gloria Estefan and Pitbull.