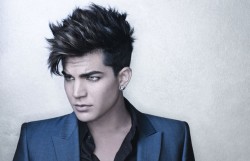 Adam Lambert might be a judge on an upcoming season of American Idol, 'sources' have revealed.
In what is probably a complete coin­cid­ence and not a stra­tegic­ally-placed rumour to promote Adam's new album 'Trespassing' — which funnily enough is out in the UK this week — the star is appar­ently 'in talks' to feature on the next judging panel of the show that dis­covered him, replacing Jennifer Lopez.
"They have been talking about Adam for over a month," a source tells E! News. "He per­son­i­fies the show, and will be a popular choice right from the start. He knows what it's like to be on the receiving end of the judges' comments, he has a human touch, and they know they can't go wrong if they bring him on. He would be able to bring a unique per­spect­ive to the show. People love him."
They do indeed.