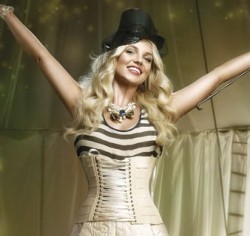 'This Kiss', a terrible song that didn't make the cut for Britney Spears' 'Circus' album, has leaked.
With a tinny backing and lyrics ("this kiss, this kiss, this kiss, this kiss" etc) delivered as if Britney recorded them in a giant fish tank, it's hard to see why it wasn't seen fit for inclusion.
Let's just say that when someone comes to compile the big list of songs that didn't make it onto 'Circus', 'This Kiss' probably won't come higher than 'Telephone'.