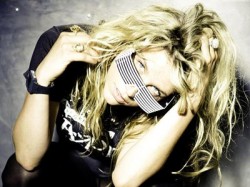 Another Ke$ha demo has leaked online.
'Things Work Out My Way' — which appar­ently features her brother Lagan Sebert on backing vocals and guitar — is thought to be quite old, and is def­in­itely not very good.
If it is new it would kind of fit in with the more guitar driven sound that she promised to Rolling Stone in February, saying "I'm grav­it­at­ing toward making a solid cock-rock record".
This is Ke$ha's second demo leak in as many months after 'U Know Better' emerged online in November.
Her follow-up to 'Animal' is expected in May 2012.