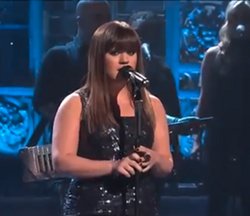 Kelly Clarson looked like she was having fun per­form­ing both 'Mr Know It All' and 'Stronger (What Doesn't Kill You)' on Saturday Night Live. The show got its highest ratings in a year. (Ace Showbiz)

The "fever pitch" sur­round­ing Alexandra Burke's comeback single 'Elephant' may be dampened ever so slightly, as the release date has been pushed back until March 11. (That Grape Juice)

Dust off your combat trousers and party like it's 1998, the wait is finally over: Brandy and Monica are back in the studio recording together for the first time since 'The Boy Is Mine'. (Jam! Showbiz)

In 'bigger platform than they probably deserve' news, The Wanted will be per­form­ing on The Ellen DeGeneres Show today, which will broadcast tomorrow. (MTV)

Adam Lambert has finished his "intense" video shoot for new single 'Better Than I Know Myself'. (Examiner) It would be good if we can just skip to the album's bangers now please, thanks.

Aston Merrygold of JLS is getting a bit over­ex­cited about going to watch the beach vol­ley­ball at the Olympics next summer, and would like to have a "naked" match against The Saturdays with Marvin and Rochelle acting as referees. (Daily Star) Maybe they could all fuck after­wards, right lads??!?!?!

There are allegedly plans for Florence & The Machine to headline an Amy Winehouse memorial concert next July, although a 'source' suggests that "nothing is set in stone yet". (Daily Mail) By which we presume they mean 'we don't yet know who'll have records out'.

Everyone's 'favourite' rock grump Noel Gallagher has been com­plain­ing about the state of chart music, noting that the "Christmas Top of the Pops was dreadful. Every song sounded like it came from the same field of music". (Daily Mirror)

Lady Gaga has been trying her hand at French cuisine. (Twitter)

And finally, in case you've been asleep for the past 24 hours, Beyoncé has given birth to a baby girl and named her Blue Ivy. (The Sun) Congrats etc to her and Jay‑Z.
THAT WAS some of THE NEWS.