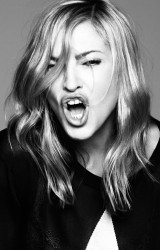 A psychotic man who served ten years in prison for stalking Madonna is ON THE LOOSE.
Robert Dewey Hoskins, whom LA police described to CNN as "very psychotic", escaped from Metropolitan State Psychiatric Hospital in Los Angeles and has been at large for over a week.
Police have no leads on his where­abouts and are advising members of the public "not engage him on their own".
Hoskins went on trial in 1996 after he repeatedly broke into the singer's home, told her staff he was her husband and threatened to do frankly unspeak­able things to her face if she turned down his marriage proposal. Madonna appeared in court to testify against him.