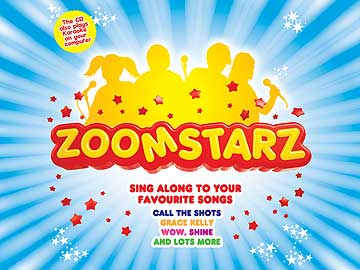 So the answer to our 'WHAT THE HELL IS THIS???' question earlier today is Zoomstarz, a new com­pil­a­tion album Universal are putting out featuring children singing the hits of today. The official site — featuring the TV ad — is here. Depending on your age and geography you might think this is a Mini Pops revival.
httpv://www.youtube.com/watch?v=KKcmHwjfCbg

It's certainly a brand which has recently been revived by K‑Tel (AMAZING) in the States…
httpv://www.youtube.com/watch?v=ndAVCnoligA

…but that in itself is a response to the success of the American Kidzbop com­pil­a­tion series.
httpv://www.youtube.com/watch?v=Soobh7NRujo

In the States Kidzbop has been going for seven years and is something of a phe­nomenon — it's already on its 14th album (which features hits like 'Bleeding Love', '4 Minutes' and 'Stop & Stare') and has also spawned a range of spinoff albums, plus a whole array of shit including DVDs, books, karaoke sets and a nation­wide tour.
The track­list­ing for the first British Zoomstarz album is:
1. Wow
2. Were All In This Together
3. Grace kelly
4. Sk8er Boi
5. Umbrella
6. Call The Shots
7. The Sweet Escape
8. Smile
9. Monster
10. Don't Feel Like Dancing
11. Ruby
12. Shine
It'll be inter­est­ing to see how this is received over here. In America the tradition of singing kids and child beauty pageants is far stronger — over here, where we have an unhealthy obsession with funny old men, people find such things a little uneasy.
(Don't click that link if you haven't yet got around to seeing Little Miss Sunshine.)