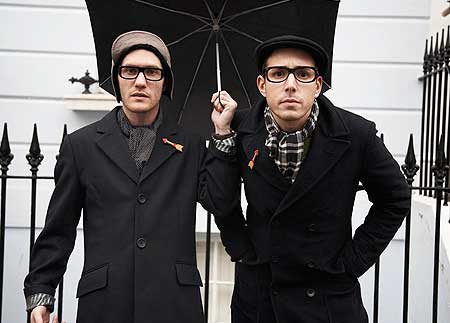 The Yeah Yous have the name of a woeful, blog-friendly Brooklyn art-disco outfit but are, in fact, two fellas called Nick and Mike. They're a sort of self-styled Gilbert & George of radio-friendly British pop music and they live in London, the greatest city on Earth.
As you can see they've got a quite good Pete 'n' Dud thing* going on in their photos and as you can hear…
[audio:15minutes.mp3]
…there's an unavoid­ably brilliant thing going on in their tunes, too. That was their first single, '15 Minutes' which was produced by Greg Wells (Katy Perry, OneRepublic etc) and is out in June. It is not fifteen minutes long. Perhaps they should do a fifteen minute long version of it. Radio refusing to play it would be a brilliant (trans­la­tion: boring) press (trans­la­tion: four blogs) angle.
This is another song, 'Getting Up With You'.
[audio:gettingup.mp3]
It probably goes without saying that they're managed by the same people as The Feeling, right?
Anyway there's more stuff on their MySpace, most of which is VERY GOOD INDEED.
* Bloody hell, two para­graphs in and we've already mentioned TWO other duos. We should probably just get all the "Pet Shop Boys you can't dance to" / Vic & Bob / Ant & Dec business out of the way early on really, shouldn't we. Bradford & Bingley, that's another one.