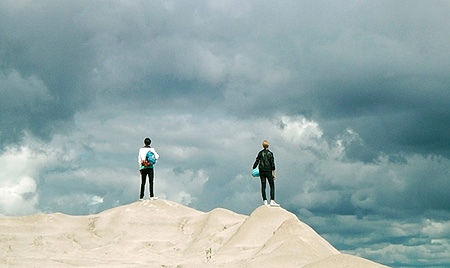 2011's panning out to be a better year for pop than most of us were expecting back in January but with autumn around the corner it feels like the summer has been missing its defining hipster-slash-pop happy-slash-sad cool-slash-uncool massive belter.
Well, panic over, because 'Sunbird' by LCTRISC has arrived. It's going on iTunes tonight (via label-we-like Despotz Records), the video's premier­ing tonight over on Consequence Of Sound, and it sounds like THIS.
Incredible, right? Right. We have been playing this song quite a lot since a preview link found its way into our inbox a couple of weeks ago. It gets bigger and better with every play.
ICING ON THE CAKE ALERT
Here is a fun bit from the duo's biog. "LCTRISC is the name of the twirly pipeline that connects the two heads of Adam Jonsson and Oskar Linnaeus. It's a slimy highway where twisted ideas and excessive dreams slide back and forth. Their music is diverse and will never lose its exper­i­mental character. They presume that if their mission is to invent the perfect song, they must risk creating thousands of failures, just as Thomas Edison must have found thousands of ways to not make a lightbulb. Therefore, to LCTRISC, each "failure" is also a success as it will inev­it­ably lead up to something extraordinary."
In other words: this band is quite good.
If you like 'Sunbird' more than you like LCTRISC's previous, less pop-strewn 'Maximal' EP (which is still actually rather splendid even though we only came across it when we were looking into the backstory on this new single) you are in luck: the band say 'Sunbird' is in line with "more clean pop songs we have coming up this fall".
(They mean autumn.)
"I guess you weren't meant for this world, maybe none of us are."
Amazing.

Further reading
»
LCTRISC on Facebook