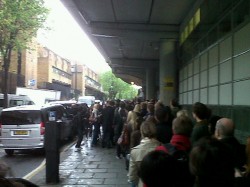 The picture to your right isn't the queue for a bank, but a line of journ­al­ists, industry types and someone from GMTV waiting in the rain to have a listen to some new Justin Bieber songs.
The excite­ment you can see is the promise of some Q&A 'action' with Justin himself. His presence meant there were about 40 fans lined up behind a railing, hurling questions at the journ­al­ists as they slowly filtered in.
At one point a girl of 16 yelled "tell Justin I'm legal", while another one accosted the man in front of us and demanded he pass on her Twitter handle to Bieber. "He missed my 16th birthday," she yelled.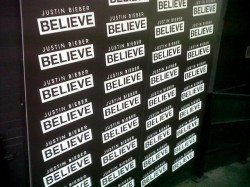 Once all bags, phones, laptops, coats and following a thorough search dignity had been left in the cloakroom, we were ushered into a big white room with chairs, tables and free wine. Amazing.
Some of the fans from outside were allowed in to have a listen and got to stand at the back, while everyone else took a seat.
Our 'compere' for the evening was Reggie Yates, who bounded on stage with all the enthu­si­asm of someone who'd much rather be doing something else. He intro­duced Justin who looked rather dashing in a black and white baseball jacket. Justin talked to the "fans" for a bit and then we were ready. The lights dimmed, some new ser­i­ous­face (he's an adult now, etc etc) pictures of Justin were projected onto the wall behind him and Scooter Braun pressed play on his iTunes.
We made a lot of notes in our Justin Bieber 'Believe' branded notebook, but here are the key facts in list form.
Justin talked to Reggie through­out 'Boyfriend'.
The first 'proper' new song we hear is called 'Die In Your Arms' and was produced by Rodney Jerkins. It's a pretty 'old skool', low-slung affair, recalling early-90s R&B.

'

All Around The World' is next but is preceded by an ear-per­for­at­ing BOOM from the speaker that causes poor Scooter to jump out of his skin. The song starts properly and it's Justin in the club, having a bit of a dance…"It sounds so bad," Justin suddenly shouts. In real life. He demands that the sound is sorted out before we can continue.
Luckily Reggie's quite good at filling. While the sound is sorted he and Justin chat about how the album is "more mature" and reflects how Justin wants to "grow with my audience". He also reveals some of the people he's col­lab­or­ated with on the album: Taylor Swift, Ludacris, Drake, Kanye. Production wise there's also HitBoy and Timbaland on there, as well as Diplo. Good old Diplo.
Reggie's heard the Drake one and likes it as he's "a big fan of hip-hop". Good to know.
We're back to listening to 'All Around The World'. The sound is still awful. Luckily, the song is so good you don't really notice. There's an amazing bit where he sings "why are you being so shy, don't do that, don't do that" and the whole thing goes off. Justin's having a bit of a chair dance at this point. There's a mid-section breakdown bit which is also amazing — lots of squiggly synth noises and then Ludacris appears for a bit of a rap.
Justin likes that one. In fact, he's quite a big fan of the whole album. "Everybody's waiting for this album," he says to Reggie.
We move onto 'Believe', the album's title track. This one was written for 'the fans' and Justin implores us all to listen to the lyrics. Unfortunately the sound manages to turn Justin's voice to mulch and all you can really make out is the bit where he sings "everything starts from something… Where would I be if you didn't believe?" Which is nice. The song is a bit rubbish to be honest. It's a mid-tempo, very earnest plodalong that features a ridicu­lous choir bit which even Michael Jackson might have said was "a bit on the choiry side".

'

Believe', the song, was written on Justin's birthday.
Before the next song Reggie talks to Justin about the fact that he sounds a lot like Justin Timberlake on 'Boyfriend'. Justin's not happy about that to be honest. "My voice sounds nothing like Justin Timberlake, first of all," he says. "He did a lot of falsetto, so that's probably why."
Next up is 'Be Alright', a song Justin wrote in "some random country" (it was Indonesia appar­ently). It's just him and a guitar and to be honest it could have done with a donk or two being put on it. It's a bit Jack Johnson, which is never a good thing. "All alone in my room waiting for the phone call to come through" is one of the lyrical gems and makes us think of Justin in his hotel waiting for an interview to be connected to his suite. At the end, apropos of nothing, Justin says that the song "sounds like a mix between Fergie and Jesus". Blimey.
Reggie really wants Justin to talk about sex. "Are you going to talk about sex on the album?" he asks. "I'm going to talk about what I'm going through," Justin replies, before turning bright red.
We then get to hear a bit of 'Right Here', which isn't finished (Drake hasn't sung on it yet). Again, it has a kind of laid-back, 90s feel, there are some 'old skool' vinyl scratches on it and it all sounds quite pleasant.
Next is a song that's either called 'Part Of You' or 'Proud Of You'. It's produced by Diplo and is very good indeed. It's preceded by some arguing between Justin and Scooter, which ends when Justin says "it's finished bro". Anyway, the song's beat is made up of layers and layers of handclaps and strange screams which loop over and over, while Justin goes all falsetto again in the pre-chorus bit. It's very Changed Man Chris Brown sounding and there's a good bit where Justin sings "my heart's so dis­ap­poin­ted in me lately, I can't help myself". Again Justin's having a bit of a dance in his chair. Reggie looks bored still.
The final song is 'As Long As You Love Me', which is another Rodney Jerkins-produced banger. We're warned before it starts that it will "probably sound crap through these speakers", and it sort of does unfor­tu­nately. Still, the song itself is amazing. Big, gloomy beats, a bit stompy and with big synth drops left right and centre, it's anchored by a huge chorus that's built around the song's title being chopped up and distorted. "I'll be your platinum, I'll be your silver and gold" sings Justin as the beat goes off and everything goes a bit mental. Once it's over Justin tells us that a famous rapper might be added to it to make it even more ridicu­lous. Hurrah.
There are a few set questions submitted by journ­al­ists for Reggie to read out. One is answered by Justin in a terrible English accent. Reggie's very bored now. We learn that there's a world tour planned, that music is a universal language and that the album "is going to inspire so many people to believe."
And that's it. Justin gets up to leave, shakes hands with some of the journ­al­ists and then signs auto­graphs for the fans at the back.
The speakers let out one more massive BOOM by way of thanks.
On the whole, well done Justin.