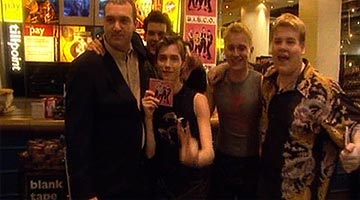 One of the good things about dicking around on Channel 4's 4OD service searching fruit­lessly for the East 17 doc­u­ment­ary is that we chanced upon the entire first (and only) series of Boyz Unlimited, a sitcom from NINE YEARS AGO about a rubbish boyband, available to download and watch again.
It was written by David Walliams with the brother of someone from a briefly popular indie band. We think Matt Lucas had something to do with writing it as well but we have some distant memory of him telling us he threw a strop and had his name taken off it in some way. Jo Whiley does the voiceover and the show also features the fit one from Teachers before he got properly fit. There are also lots of things (arguments over gross and net and so on) which you will find amusing if you have read too many books about boybands. In the cold light of 2007 a lot of the brilliant script is quite poorly executed, but the jokes are strong enough to mean that the show's still worth half an hour of your time.
We'd be tempted to say that the series, almost a decade old, is a useful his­tor­ical document of the boyband era, were it not for the fact that the country is still overrun with hopeless genuine boybands and managers whose approach to boybandom spoofs the scene far better than Boyz Unlimited ever did.
If you fancy watching the series there's more info on 4OD here.