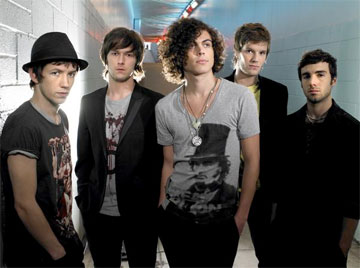 Brian Higgins and Xenomania are going to have a busy and exciting 2009. It will involve the launch of their own record label, new acts and that sort of thing. One of Xenomania's first new acts to emerge — although they've signed to the reswizzled Geffen label, rather than to Xenomania — are Vagabond.
Vagabond are fronted by a young man called Alex Vargas (see if you can guess which one he is in the picture above) (clue: it's not the one in the hat).
WARNING
THEY DON'T SOUND LIKE GIRLS ALOUD
WARNING
THE BIOG PRESS RELEASE THING INCLUDES PHRASES LIKE "SOULFUL, BLUESY POP SOUND" AND "LIQUID SMOOTH BASSLINES" AND "OUR TASTES SPAN POP, ROCK, LOUNGE, FUNK AND BLUES"
So this lot are def­in­itely more at home on the side of Gabriella Cilmi than, say, an elec­tro­cy­ber­metal balls-out techno rock troupe, and they won't be to all your tastes (some of it goes right over our heads, to be honest), but:
a) It's all good if you like that sort of thing.
b) A couple of the tracks do sound like proper Xenomania. We don't seem to be able to find out who's doing the online PR for this so we can't do you a clip of anything but 'I've Been Wanting You' is elec­tronic and exciting and very very good indeed, and 'More Than You Can Take' (on their MySpace at www.myspace.com/vagabond) is enjoyable in an early-2000s George Michael sort of way.
The first single, 'Sweat (Until The Morning)', is out at the start of next year — it starts off pre­tend­ing to be 'Unfinished Sympathy' then slides into a slick, orches­tral funk sort of 'affair' which doesn't really sound very good on the first listen but ends up hitting the spot about halfway through the fourth spin.
This is the live experience.
httpv://www.youtube.com/watch?v=W76gNFEe6mU

There are some London live dates coming up at the usual venues — there's one tonight, in fact.
So there you go. Another new band to put on your 'Potentially Big For 2009' wallplanner.