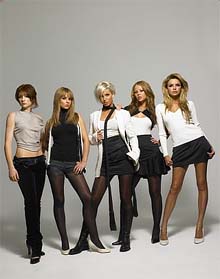 Quick! What are you doing tomorrow morning? Obviously it's a Thursday so there will be a lot of school/college/work oblig­a­tions on your mind but that's what the telephone was invented for – phoning in sick.

Girls Aloud are playing an acoustic gig (!!) (!!!!!!!) on Regents Street tomorrow morning to promote the launch of — cue obvious plug for promoted product in question – 'Musicstation', a Vodafone music download thing.
The only drawback is that the gig is at 9am (!!!!!!!!!!!!!!!!!!!), but the plus points outnumber the bad. The venue is tiny (Paper, Café Royal Building, 68 Regent Street) and at least one of Girls Aloud will probably have been out all night and will be stopping off to perform on her way home with twigs in her hair, a bottle of Purdey's stuffed in her handbag and an empty crisp packet being dragged along by her left foot.
All you need to do is email us at [email protected] with your contact details and we'll put three of you (each with a +1) on the guestlist.
Simple really.
This is some copied and pasted inform­a­tion from the nice PR people which they would probably want us to include in exchange for us giving them a free advert or something.
Competition copy

'Something Kinda Oooh for MusicStation; Coming
soon!
'
The launch is coming! We
are counting down the days until the launch of MusicStation – the revolutionary,
mobile music download service available exclus­ively on Vodafone and sold in
Phones 4u stores

!
Having MusicStation on
your phone means you can download tracks from a library of over one million
songs direct to your mobile phone – no computer or wires needed – just the track
you want as soon as you want it and there is no limit of how many songs you can
download!
To tickle our musical
taste buds leading up to the launch, Girls Aloud will be playing an exclusive
acoustic set in an intimate venue tomorrow morning to a very small audience –
which could include you

!
We have

3

pairs of tickets to give away to the one off
per­form­ance to Pop Justice
readers and the chance to
meet and greet the girls after­wards

!
For your chance
to win, please answer the following question:
Where is MusicStation going to be
sold?