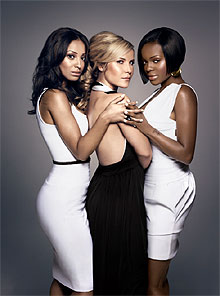 It's com­pet­i­tion o'clock.
The prize:
£100 plus three tickets to see Sugababes at the Vodafone TBA gig bonanza in Edinburgh on June 1. Apparently the gig bonanza is in fact "a mini festival available exclus­ively for Vodafone customers. A limited amount of tickets are available only to Vodafone customers who text ACT to 61500 to claim their tickets. The line up so far is The Feeling and Sugababes with one more act still to be confirmed". The other act happens to be The Hoosiers. The point here is that you can win some tickets without having to enter a different com­pet­i­tion, plus you also get some cash.
To win the prize:
Email us on this email address…

…and tell us an inter­est­ing fact about Edinburgh. Most inter­est­ing fact wins. Please also include your name and mobile number amd handset make (so Vodafone can send a spooky eticket thing to your phone).
The closing date:
TODAY (Tuesday), 3pm UK time.
Get on with it.