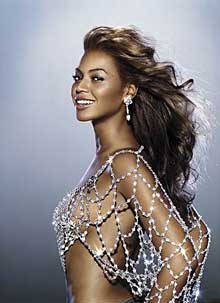 Here (in the box to the right) is a picture of Beyonce. She looks happy with herself, doesn't she?
The reason for this is that she knows that on Monday she will be per­form­ing for ONE OF YOU PLUS A FRIEND at a VERY SPECIAL GIG.
Here are some details.
* It's a one-off, invite-only show for the BBC.
* It'll be in London late on Monday afternoon.
* She's per­form­ing an hour-long set of old and new material.
* She'll be backed by a twelve (TWELVE!) piece band.
If you would like to win the pair of tickets (it would have been two pairs but the other tickets seem to have fallen into our bag), answer this question:
Which of these is a Beyonce album?
A) B‑Day
B) Bizet
C) Ebay
Send your answer to [email protected]. Competition closes at 4pm today; if you've won you'll know by the end of the day.