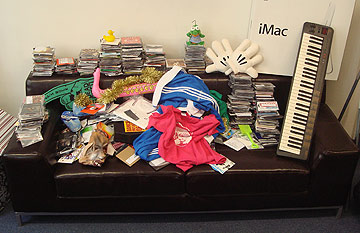 Pictured: Hundreds of CDs and DVDs, a Robbie Williams tracksuit, a Dead Disco foam hand, a keyboard, an iMac box someone thought it would be funny to put in the picture even though an iMac is NOT part of the prize, an inflat­able saxophone, a Dragonette Oyster Card holder, some tinsel, a rubber duck, a couple of Calvin harris t‑shirts, a plastic spade and (audience cheer here please) a cuddly toy. There's actually some good stuff in there but there is, to be honest, also a lot of rubbish.
Not pictured: Another two BIG boxes of CDs we'd forgotten about.
To win the prize — which you must collect TODAY at 4pm from Chelsea, London — email us on [email protected] with the following:
» Your name, so we know who to ask for when we call you on…
» Your phone number. This is so we can tell you you have won.
» Your MySpace page. This is so we can see if you are A Popjustice Sort Of Person.
» Your height. This is for secret reasons we cannot disclose.
» One reason you should win the prize. This is for no reason whatosever.
We must receive your email by 2pm.
Conditions: you MUST take away the whole fucking lot. You'll need a car or a taxi. We do not care if you drive it straight to the Record & Tape Exchange — we want this stuff out of the office. Now.


Update! This contest is now closed…