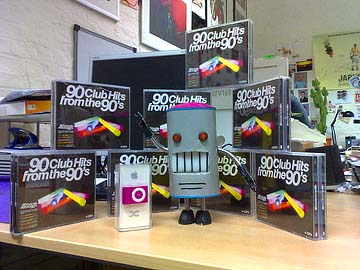 The only thing better than 'new music' is mod­er­ately recent music and by that we mean songs that were made in the 1990s and therefore exist in a strange bubble of pop logic and reason which nothing before or after this period can ever hope to replicate.
We are talking about 'You're Not Alone' by Olive. We are talking about 'Not Over Yet' by Grace. We are talking about 'Too Blind To See It' by Kym Syms, 'Show Me Love' by Robin S and another 85 amazing yet era-specific tracks included on 90 Club Hits From The 90s. You can keep 'Jump Around' by House Of Pain though, we're not feeling that one so much.
If you would like to win yourself 720 90s Anthems (we simply do not have time to post each set indi­vidu­ally — you'll be getting 8 copies) and an iPod shuffle all you need to do is email us at [email protected] and tell us about the worst thing to happen to you in the 1990s.
(It was ori­gin­ally meant to be 10 copies, but two copies of the album have mys­ter­i­ously 'vanished' from Popjustice HQ.) (They have been taken home.)
(Oh and if you are into this sort of thing there is a new club night happening in London a week tonight and from the look of things it may have taken some if its inspir­a­tion from this 'astound­ing' com­pil­a­tion. Click here for details, pictures, words and 'more'.)