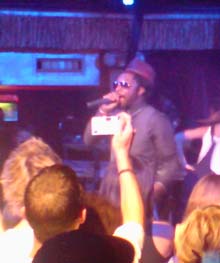 While we all wait patiently for the Apl.De.Ap solo record we will all have to make do with Fergie — and now Will.I.Am's solo albums in the seemingly eternal meantime.
It took until 'Big Boys Don't Cry' to really win us over to the whole Fergie project so we will give Will.I.Am up to four singles to prove his worth likewise.
We went to see him perform songs from his new album last night and he was very good. If you happen to bump into Shayne Ward today and would like to know how good the show was, ask to see his phone because he filmed it all from a balcony on his mobile. Also on his balcony were Jamie Cullum and Naomi Campbell. We were down with the riff-raff but we obviously prefer that sort of thing because that is where the real heart and soul of society lies.
Anyway, some of Will.I.Am's songs are quite political and about poverty and a lot are about having sex with women. The one we liked most was called 'The Donkey Song' and the chorus went a bit like this:

Will.I.Am: "You got a donkey/you got a donkey"

Will.I.Am's backing singers: "I got a donkey/I got a donkey."
We knew a girl with a donkey once. The donkey was called Jenny and it would snap its head right around to bite you if you tried to ride it. To Will.I.Am, a woman with a donkey is probably something quite different and we dread to think what that might be.
Will.I.Am's solo album sounds a lot like a Black Eyed Peas album and will therefore be very popular indeed. Well done Will.I.Am.
NB. We had to leave a bit early to go and see Justice play in Camden. Their show was AMAZING but there were no mentions of donkeys nor did we see Naomi Campbell so we shall say no more about it.