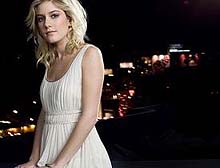 Remember we mentioned Heidi Montag the other week? With the not-exactly-very-good single and video? Well, she's a bit upset about how people have reacted to the video.
HHE report that she's been telling People magazine how she coped when she read online comments about the clip.
"I just started sobbing uncon­trol­lably. I cried myself to sleep that
first night after my video came out. I just couldn't under­stand [how people] I
didn't even know felt the need to be so cruel and hurtful toward me. I
am just a 21-year-old from a small town in Colorado trying to follow
her dreams."
Do you know what, there's no easy way to say this, but this woman just doesn't have what it takes to be a popstar. This isn't a job for the faint hearted or the easily offended. Popstars are never more than eight feet from someone who will call them a cunt at the drop of a hat.
Someone who cares about her — anyone — please just take her to one side and tell her the truth. If she bursts into tears when people tell her they don't like her new video, how's she going to react when, say, a gossip blogger Photoshops spunk onto her face two hours after a family member dies? Someone, just lock her in a room with a bucket and Britney's press cuttings from the last twelve months, and don't let her out until she's thinking about a job in an office.
In case you missed it before, here's the video which prompted all those mean comments.
httpv://www.youtube.com/watch?v=YholvmPWBA0

You've got to admit, it's pretty bloody ghastly. Tough love viewers. Tough love.