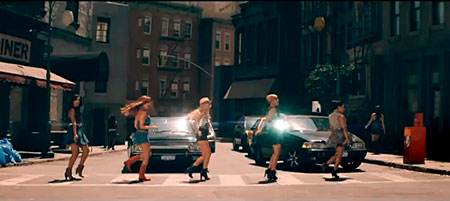 The Saturdays' 'Higher' (HIYAAAA!!!) video premiered on Saturday night, after an episode of that breath­tak­ing '24/7' fly-on-the-wall ITV2 show. '24/7' had featured the band recording the video, so it all made quite a lot of sense.

Clearly the best thing about the whole video is that forty years after Abbey Road 'The Sats' have put zebra crossings back on the pop agenda. One of the more inter­est­ing things about this is that the dance the band do as they cross the zebra crossing was the subject of one par­tic­u­larly illu­min­at­ing portion of '24/7'. Out in LA to shoot the video, the band complain about having to spend too long working on the routine.

It's a brilliant insight into why British bands so rarely succeed in America. "We're not really rehears­ing something big," VANESSA moans. "If we were at home we would
have done it… We would not be still here right now so everybody's
finding it a bit hard." Not really rehears­ing something big? It's clearly one of the video's pivotal scenes.

Choreographygate occurs at the start of this clip.

[youtube]n5K7U1E1MZI[/youtube] *Holds head in hands*

Here, meanwhile, is the finished 'Higher' video. Was all that boo-hoo time spent cho­reo­graph­ing the zebra crossing bit worth it?

[youtube]eEnz3r2F-Bw[/youtube] Of course it was.

An important lesson, there, for any popstars reading this.