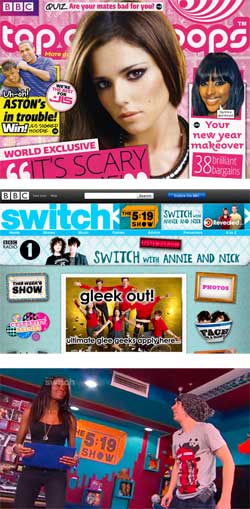 You'll be reading a lot today about the imminent demise of the BBC's altern­at­ive music radio station 6Music.
Despite a playlist that doesn't exactly fit in with the Popjustice view of things and with the exception of Huey from Fun Lovin' Criminals having his own show 6Music's one of the few spots on the 'radio dial' to guarantee an idiot-free listen — it's also very much in tune with the musical tastes of some prolific tweeters, the majority of music journ­al­ists and other influ­en­tial early-to-mid-to-late-30s media taste­m­akey people. So you'll be hearing a lot of people being upset that their favourite radio station might be taken off air but there'll probably be slightly less fuss about, for example, BBC Asian Network, which is arguably a better use of the licence fee but is looking at a fate similar to 6Music's.
You might also not read much about some of the other cuts in music coverage. In The Times' report today it's claimed that "the BBC will pledge to leave its com­mer­cial rivals to take the lead role in serving teenagers, and will announce the closure of its teen brands, BBC Switch and Blast!". The Times also says that BBC Worldwide must dispense with its magazines arm, which includes Top Of The Pops magazine, while it's not looking good for online pro­pos­i­tions like the Radio 1 Chart Blog and the daily 5:19 Show, as part of Switch, is unlikely to make it through the cuts.
Interestingly, a sad day for 6Music listeners is also a sad day for Radio 1 listeners because the closure of 6Music will have a huge impact on Radio 1's playlist. According to The Times, "Andy Parfitt, the [Radio 1] Controller, will be told that the demise of 6
Music will lead Radio 1 to become the corporation's only major outlet
for popular [by popular they mean not classical or opera shit] music. He will be ordered to tie the station more closely
to 1Xtra, its digital coun­ter­part, with greater cross-promotion".
What this seems to suggest is that Radio 1 will have to take on board 6Music music and 1Xtra music, playing more altern­at­ive and urban tuneage. We can tell you right now that the number of 6Music listeners likely to switch to Radio 1 due to Greg James playing an extra Ash b‑side every fortnight is precisely zero. What will happen, however, is that there will be less room for pop on Radio 1. Switch on a Sunday night is one of the only places on the Radio 1 schedule for a decent pop exclusive. Switch does Girls Aloud first plays and things like that, but Switch is going.
This means you're looking at daytime for pop coverage, but with more genres to fit in, will Radio 1 be able to find room for a new Mini Viva, or a new Pixie Lott, or a new JLS? Will it even bother, or will it just be left to 'com­mer­cial rivals' leaving Fearne Cotton to bang on about The Temper Trap at even greater length?
It's not looking good, readers. It's not looking good at all. What we seem to be looking at here is the BBC turning its back on pop music.