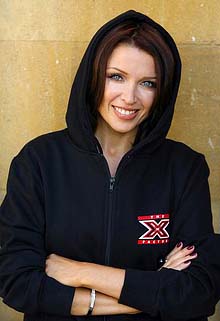 Lets have a little look.
Dannii Minogue
We think Dannii should stage a coup at the X Factor live final and pronounce herself the winner.

Alphabeat
"Too happy," announced the editor of a popular listings magazine when we took him to see Alphabeat on Wednesday night. Said listings editor proceeded to take us to see a per­form­ance by PRINZEHORN FUCKING DANCE SCHOOL. 'Enough said' etc etc.

Eskimo Disco
Their new single 'Japanese Girl' is several shades of amazing and if their album didn't contain a song which sounds like fucking Kula Shaker this lot would be a lot higher in the Popjustice Almighty.

Gym Class Heroes
We are as surprised as you are.
And there you have it.