We've had a Pointless Vote running for the last few weeks and Popjustice readers have been voting in their thousands. There were actually over 20,000 votes. Unbelievable. Anyway here are the results to the question 'What should Sugababes do now?'.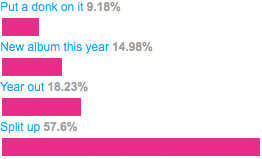 Right, here's the thing. Sugababes shouldn't split up. Sugababes are a brilliant British pop group and it just so happens that their most recent album — a really great album, just one without a great selection of singles — underperformed.
For this reason they have seen their own pop­ular­ity take a dip just as Girls Aloud's pop­ular­ity exploded. We know it is boring to compare the two groups but they are the only two establshed girl­groups in the country so of course they are going to be compared. Girls Aloud appearing to have 'won' — and Girls Aloud truly are Britain's second favourite pop group behind Take That — must be difficult for Sugababes, par­tic­u­larly Keisha who probably feels slightly humi­li­ated. It's probably quite tempting to knock it all on the head and go for solo careers.
THREE THINGS SUGABABES NEED TO KEEP IN MIND

1. Solo careers will NOT work. This is not a personal attack on Keisha, Heidi or Amelle. It is simply a statement of fact. Splitting the group so that one or more members can pursue solo careers would be a mistake. None of the girls has a suc­cess­ful solo career ahead of them.
2. The last Sugababes album campaign was such a non-event that nobody has really noticed that the band are sort of in the dumper. Meaning that…

3. …the right track could turn it all back around again. It is time for the band's next 'Freak Like Me'.
Anyway appar­ently they've just signed some sort of new deal with Def Jam or something so we presume it's full steam ahead for the next album. This is good news because pop without Sugababes in it would be fairly shit.