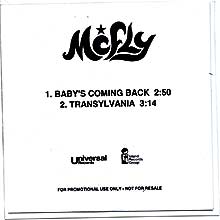 Well, apart from the bril­liantly bonkers 'Transylvania' on the flipside, it's McFly doing a cover of a song by Jellyfish. The original video is here.
Jellyfish are a band from The Recent Past who nobody was very bothered about at the time, but have become a bit of a cult act in the inter­ven­ing years. Some specific people who realise Jellyfish were amazing are McFly, who were listening to the band a lot while they were making their last album.
Unfortunately, their version of 'Baby's Coming Back' makes a good Jellyfish song sound like a bad McFly song. Why couldn't they have released 'We Are The Young' from the album? That song is amazing. Perhaps so far into the album campaign they felt they needed an extra twist for this single release.
Here is an altern­at­ive twist for you. Four words: balls-out rave anthem. In pop, you cannot under­es­tim­ate the power of the element of surprise.