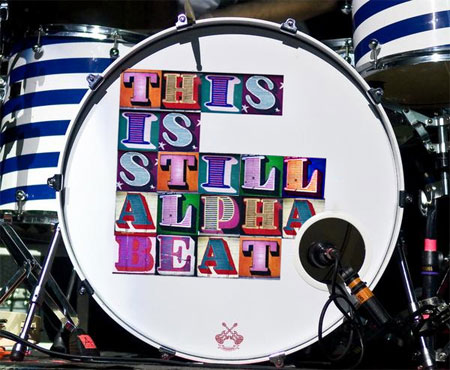 The key points:
1. It's called 'The Spell' and the overall 'vibe' is Madonna meets Shannon with Black Box keyboards with a sped-up 90s Scandipop backbeat. It is amazing.
2. It starts off with some scratch­ing, then some "whoah-oah-oah-oah-oh" bits from Stine with a big Italo house piano riff.
3. Stine does all the singing except for the middle eight when Anders appears and starts wailing about "can you feel the power working baby girl, I think the spell is working oh-oh" over the top of some subtle Calvin Harris-esque rave noises.
4. The verse lyrics go a bit like this: "I've been thinking about you lately, you're on my mind, you do something to me baby in ways I can't define, whatever you're doing you're doing it well, what is your secret won't you please tell." The chorus is all "you put a spell on me, I don't know what to do … Your magic has got me where I want to be blah blah blah". Lyric wise it is safe to say that Alphabeat are still not looking for arty farty love.
5. This song is 114 beats per minute. There will probably be some shit remixes to speed things up a bit but this version is perfectly toe-tappable as it is.
6. The song is three minutes and thirty seven seconds long.
7. Seven seconds too long — shame.
8. The single — and an album — are out in September. According to a man at their record label the band have produced the whole thing themselves.
9. Pop fact — it's a grower. It doesn't pack the obvious immediate energy of the first album's signature tunes — Alphabeat probably kind of made their point with that sound — and 'The Spell' is maybe a little bit cleverer than all that.
10. And finally, earlier today we told asked our Twitter followers whether they had any questions about the new Alphabeat single. Here's a selection, with answers.
DeejayMog asks: i'll like to ask alphabeat why they're so "ferreting shyt.…" ala going live circa 1988
This isn't strictly about the single itself, more a query about the band. To answer your question though, we believe that many of the band's reference points are from late-1980s (probably more 1989 than 1988, really) because of how old some of the band members are — it is what they perceive to be a golden era of pop music (although each gen­er­a­tion obviously defines its own golden era) and they probably like the idea that going on a main­stream TV programme like Going Live was probably something a pop group should aim for, rather than avoid for stupid cred reasons.
frankisch asks: can i listen to it, like right now?
Not yet, no.

statem­agazine asks: Have they got a new label then?
Yes, they're signed to Polydor now.

josephhhh asks: what track on their old album is it most like?!?
'Go-Go', probably.

wrong­tothetom asks: does it include 12 remixes which all sound exactly the same?
Well they're signed to Polydor now, so…

divas­chem­atic asks: is it any good?
Yes it's very good.

Steoph asks: why they have a new single would be a good start…
They're releasing a new single because they are a band and that's what bands do. Their first album sold quite well in the UK — this is partly due to a fairly large marketing spend but its success, and the band's increas­ingly popular live show, also indicated that there was something about the band and their music that connected with music fans and music buyers, which in turn suggested that a second album would not be a bad idea.

them­an­whofell asks: When will it end?
Three minutes and thirty seven seconds after it starts.

SuperCracko asks: Does it lend itself to a dance routine?
Yes. Oh yes indeed.

simonbu asks: will it firmly establish them as a here-to-stay act or are they on their last legs
It's a clear start to Phase 2 and is probably aimed at subtly shifting the band away from Crazy Euro Novelty Funsters towards being more soph­ist­ic­ated modern pop troupe, so if they pull it off it'll hopefully establish them as a here-to-stay act, in as much as any main­stream pop act can/should be 'here to stay'. We should point out that despite slightly repos­i­tion­ing the band, 'The Spell' is not self-con­sciously 'cool' or 'credible' or 'authentic' in the boring indie sense of those words.

matthewjh asks: Is it a cover of 'To Hell With Poverty'?
No.

katiemay­manc asks: Why they still have a record deal?
Well they don't really 'still' have a record deal at all — they've moved over to Polydor, after EMI were given the privilege of being able to take the big spendy risk setting the band up with the first album. It's all very complicated.

BananasMel asks: Yes…is there going to be a Pete Hammond remix?
Not sure. That ship's probably sailed, to be honest.
den­niskees­maat asks: if this song was a borough of London, which one would it be?
WANDsworth. Do you see what we have done there.

NeverEnoughShoe asks: Is it sparkly? And is it awesome?
Yes and yes.

tomgormer asks: are they still dreamy mcdreamy handsome?
Well none of us are getting any younger, are we.
And there, as they say, we have it.