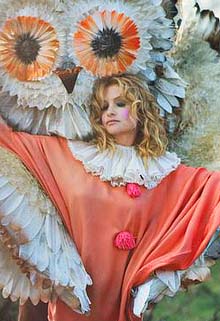 Let's have a little look.

1. The new Goldfrapp album is not what many of you might have been hoping for, it's just very different.
2. Same Difference: it's a yes from us. Still. Here's a little look at how it all began. Good times.
3. Uniting Nations are back on top form with a video full of women and men doing sex faces. There has been some sort of 'scandal' about the video being banned from YouTube or something and lots of people keep emailing us about 'the viral video'. HERE IS THE NEWS: if you say something is a viral that means it is not a viral any more.
4. Three Australians who mis­takenly describe their music as 'Indie/Gothic' on their MySpace page. Midnight Juggernauts are actually a quite amazing electro dance pop band we should have written about around eight years ago except we kept forgetting.
5. Let's see what the press release has to say about the Never Mind The Pan Pipes album, 'Indie Pan Pipe Hits':
"Following on from the success of 'Alternative Nose Flute Chart-Toppers', 'Best of Nu-Rave on the Ocarina' and the sublime 'Piccolo Grindie Mash-Ups' the guys over at Ernet Records present their most com­pre­hens­ive and exciting release to date – 'Indie Pan Pipe Hits'." Every song on the album is better with pan pipes thrown in and that is 100% pop fact.
So there you go.