In a post on his blog, magazine guru (and one-time Smash Hits editor) David Hepworth asks the question "Who wants an official X Factor magazine?".
He notes that The X Factor have approached pub­lish­ers asking them to pitch for an X Factor magazine contract: weekly while the show's on air, monthly through the rest of the year. The price of this licence is about £2m and two pub­lish­ers are, appar­ently, still in the running.
David brings up a couple of good reasons to give this sort of pub­lic­a­tion a swerve but an official X Factor magazine could still be amazing.
Here's what we reckon this month's issue could look like.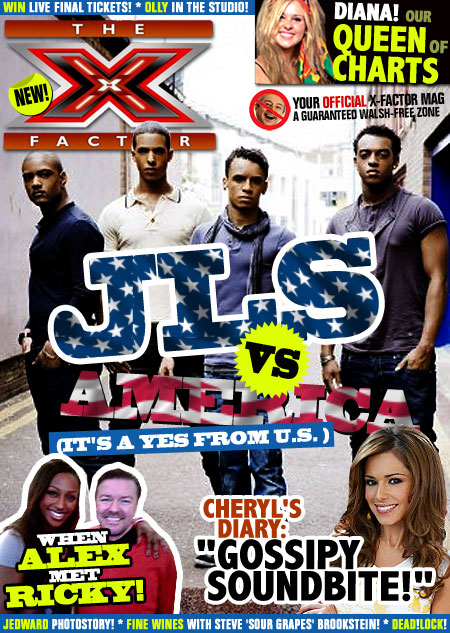 What The X Factor has done rather effect­ively is create its own universe of music and celebrity. To publish a monthly magazine con­cen­trat­ing solely on this universe would probably require a certain amount of flam and nonsense but it would, in theory, be possible to publish a magazine entirely based on the world of The X Factor and asso­ci­ated artists, par­tic­u­larly in years to come as X Factor USA takes hold and a second stream of artists comes along.
An 'X Factor only' rule wouldn't really be necessary, though — during
the live weeks the show has access to the biggest music
stars on the planet as they visit the studios to promote their latest
releases. More sig­ni­fic­antly, if the mag became a success and did choose to embrace other
musicians we suspect there would be no shortage of access all year
round.
In the same way that The X Factor's power managed to force a boyband back into the Top 5 when record labels acting on their own had repeatedly failed for several years, and in the same way that The X Factor put a music show at the top of the ratings when other music shows were either niche or being axed, so an asso­ci­ated X Factor magazine could find an audience where tra­di­tional pop magazines have floundered since the height of Busted's success. The standard X Factor criticism — that it isn't just (or even very much) about 'the music' and focuses too much on per­son­al­ity — is the very reason the magazine could work: magazine readers love (and need) stories and per­son­al­it­ies, and if it follows the show's audience demo­graphic an X Factor magazine could actually be the first main­stream music magazine whose core read­er­ship is above school age. It could even break free of the cov­er­mount curse, flying off the shelves in its own right rather than because of what's Sellotaped to the cover.
On the other hand it could be a short-lived, money-for-old-rope piece of shit boasting a free hairbursh, three word­searches and a 250 word Q&A with Addictiv Ladies. Let's wait and see…