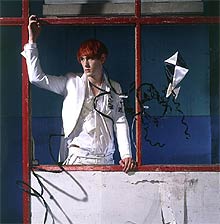 1. It is called 'Accident & Emergency'.
2. The first five seconds sound like a complete racket.
3. The rest of the song sounds like a pop record.
4. With Points '2' and '3' it perfectly reflects key Patrick Wolf 'brand values'.
5. Except with Point 3 it sounds more like a pop record than anything Patrick has done before. This is probably because the recording budget has probably been increased to more than eight pence and a piece of string.
6. There is a kite — A KITE!!11! — on the single sleeve.
7. This line is quite good: "if you never lose, how are you gonna know when you've won? If it's never dark, well how you gonna know the Sun when it shines?"
8. After the whole Wolfmother 'debacle', it helps to reclaim the use of the word Wolf in a pop act name.
9. The chorus is a bit like the song from the old Asda adverts. We do not think this was par­tic­u­larly inten­tional but it is true.
10. You can listen to a clip at his new website: www.patrickwolf.com.