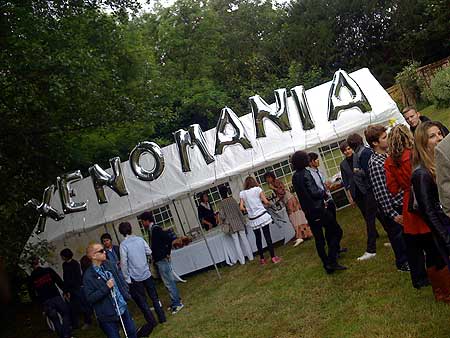 We didn't tell you about our amazing day out last Friday! Basically 'Something Kinda Oooh' hitmakers Xenomania threw their doors open* and invited various bigwigs and music industry people down to Kent for an afternoon and evening of music from the acts they've been working on and with over the last few years. It was a cross between a music festival and a garden party and felt very much like the future of outdoor events. In the picture above: balloons, booze, the singer from Vagabond.
Here's the stage featuring Brian Higgins and Miranda Cooper intro­du­cing one of their acts.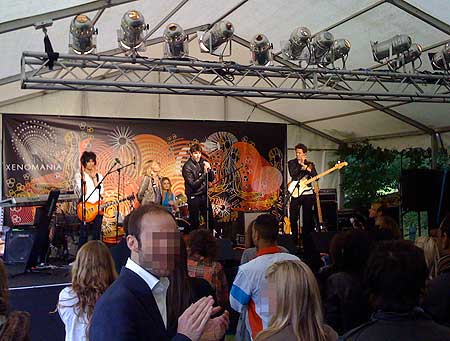 The other people on the stage are Xenomania's 'house band' — they provide backing for non-bandy Xenomania artists like Mini Viva and two of them, Jason and Kieran, wrote some of Girls Aloud's 'The Promise'. If the fella on the left's big hair and penchant for pouting are anything to go by the band will probably end up being a 'proper' band at some point in the future; for the time being they are called 'JFK'. We asked Xenomania's PR person if this was because they were supposed to blow our minds and he just sort of looked at us and said, 'no, it's their initials'. (Our reason was funnier.) (If only mar­gin­ally.) (In the sense that the tragic assas­sin­a­tion of a world leader can ever be classed as 'funny'.) We should also point out that down in the coun­tryside the indis­crim­in­ate pixel­la­tion of faces is a massive problem that continues to threaten lives and live­li­hoods. Victims of pixel­la­tion find that they are forced into lives of crime, as is evident from the CCTV footage you see on tele­vi­sion which, so fre­quently, features pixel­la­tion victims com­mit­ting heinous acts. Do not judge, readers. Try to understand.
Here is a photo — or two photos we seam­lessly blended in Photoshop — we quite like. It features a stage at one end of the Xenofest marquee and, at the other end, shel­ter­ing from the light drizzle but still literally as far as it was possible to be from the stage, Assorted Bigwigs.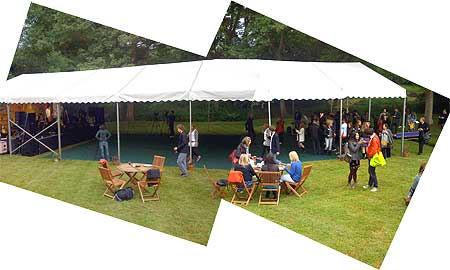 They moved forward when the music started properly, though.
Here's a portable loo with a Xenomania sign on it, no doubt hired with some of the 'Hip To Hip' millions.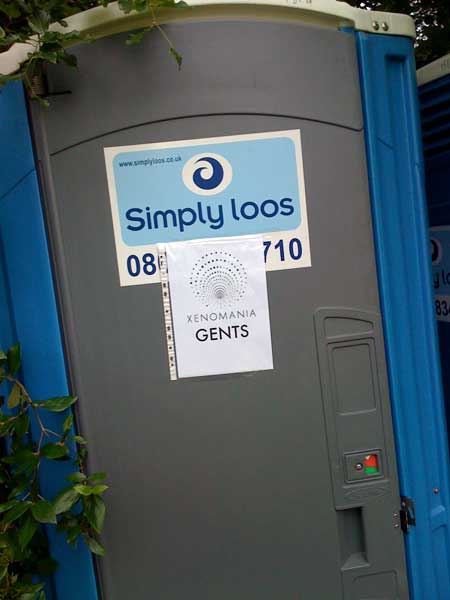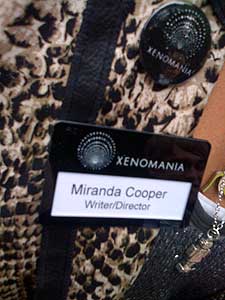 Xenomania people had name tags — here's the namebadge of reknowned tunesmith Miranda Cooper.
Miranda is also sporting a more con­ven­tional pin badge. We grabbed a few on the way out — if you'd like one send us an email to the usual address telling us your favourite Xenomania song with a 250 word explan­tion. There are four 'up for grabs' — it would have been five but one has already been put aside for a young man named Laurence who came and did work exper­i­ence at Popjustice a few months ago.
Sadly our luck with the 'hello madam can we just take a pho­to­graph of your nametag' ruse quickly ran out, resulting in a formal warning from security and a lifetime ban from Xenomania Towers.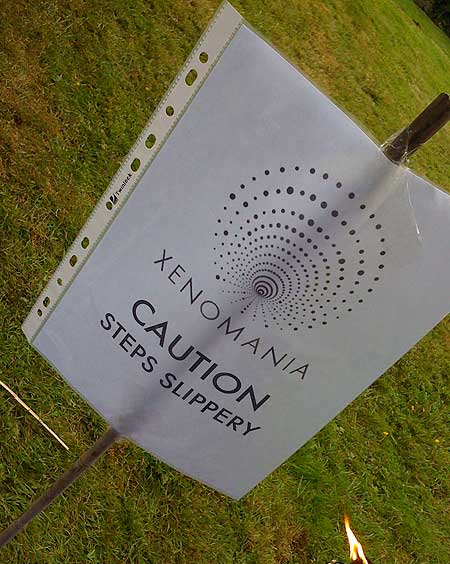 Health and safety is very important at a pop festival and we were pleased to see that Xenomania took as much care over their guests' wellbeing as they do over their chart-topping pop sounds. We also note that Xenomania favour Twinlock branded PVC pockets — an inter­est­ing choice.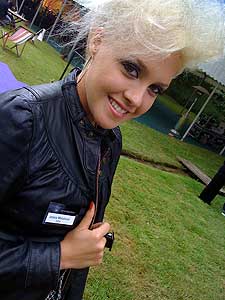 Here — with her nametag proudly on display — is a singer called Jessie Malakouti.
We have been meaning to write about Jessie on Popjustice for so long that it has become something of an embar­rass­ment. It's got almost so bad that we were con­sid­er­ing ignoring the whole thing, never writing about her at all and just hoping that the whole humi­li­at­ing debacle was quickly forgotten. Tragically Jessie is destined for quite big things — her tunes (some of which you can listen to on her MySpace) are pretty incred­ible and she's currently on tour with The Saturdays.
Jessie performed live on Friday. Though Mini Viva and Vagabond are first out of the blocks there's a lot
more to come — Jessie, Nightvisions, Pageboy, Alex Gardner. A variety of sounds and per­son­al­it­ies, but something for everyone.
HERE ARE SOME DUCKS.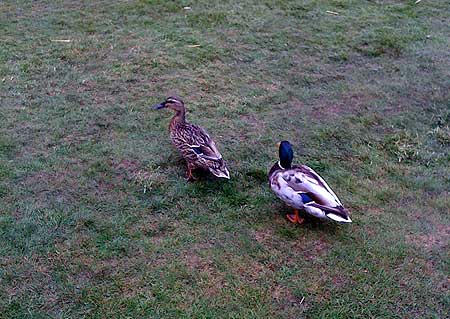 THOSE WERE SOME DUCKS.
* It was their side gate, leading through to their back garden — we weren't allowed inside the house :(